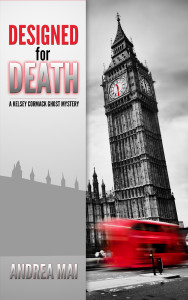 So here I am, doing things out of order…My newest release came out on April 11, 2016 and I have not updated this website. It's hard to make time for everything, so I end up doing things backwards!  But here it is….
You can get a copy of  Designed For Death: A Kelsey Cormack Ghost Mystery in a lot of online stores including Amazon, Kobo, Barnes and Noble, and some others. I'm working on Itunes still and hope to have that fixed this weekend.
If you like mysteries- and especially spooky mysteries (don't worry – I didn't set out to scare you, just give you a few thrills and chills), would you go over to your favorite online store and get a copy to put on your e-reader?  I'd love your feedback- reviews are always welcome!
After I released the book, I spent a week writing like a crazy woman on the next book. I'd rush home, make dinner, and type till some body part gave out! But like any good writer, I had a wee bit of a meltdown for the next week. Now that I'm bored with my angst, I've returned to doing what I love- crafting fun stories for my readers.
We are getting set to go on vacation soon and I'll be returning to a place I love to scout out locations for the 3rd book in the series. It will be set in San Francisco and northern California. Nothing like traveling a bit to open up the senses. The feel of the wind from the ocean and hopefully floating in the water for a few hours (though I hear it's pretty damn cold in that part of the ocean!) is all I've been dreaming of for the past two weeks. Getting away to see dear friends for a few days – and then spending the rest of the time adventuring with no plans except to spend the last two days in San Francisco- it's going to be fantastic. I'll be making sketches for that story and soaking up all the energy of the place.
There's this little coffeehouse in San Francisco we can't wait to get back to.  They had the most amazing pastries- one had a lemon filling that made your mouth water, just the sexiest twist of sweet and tart.  So, that's the one plan I have for the city by the Bay. The others are:
City Lights Bookstore – buy all the Li-Young Lee books I can find. His poetry makes me cry every time I read it. I cry because he knows the things I believe about the universe and life….and his imagery is ecstatic, sensuous, alive.
Get Misty a bowl of clam chowder and all the seafood she desires (I'm allergic so I can't partake!)
People watch… then write about them.
We are also going to go visit the Redwoods or the Sequoias – any preferences? And Sonoma or Napa? I'm not a big wine drinker, but I'm thinking white wines will be on the list, regardless of where we end up. Any restaurant suggestions? Seafood and really great fresh food – a wicked good salad and some fish are what I'm craving.
That's all for now. I'll keep writing, you keep reading, and let's both enjoy life!
Andrea